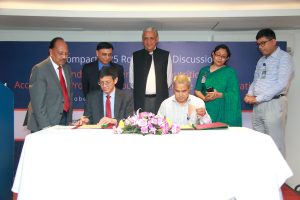 The Bangladesh government and the International Food Policy Research Institute (IFPRI) have agreed to develop an in-country Knowledge and Innovation (K&I) Hub, for which the Governance Innovation Unit (GIU) in the Prime Minister's Office (PMO) will act as a platform.
The GIU and the IFPRI on Wednesday signed an agreement in this regard at a roundtable discussion in Dhaka.
The ambitious global initiative aims to end hunger and malnutrition in Bangladesh by 2025, according to a press release.
GIU director-general Md Abdul Halim and IFPRI director-general Dr Shenggen Fan signed the agreement. Activities and programmes will include developing the GIU's research and analytical capacity, conducting joint research on priority areas, and advocating policies and programmes that may help end hunger, malnutrition, and poverty, in line with the Sustainable Development Goals (SDGs) and the Compact2025 vision.
The Compact2025 roundtable discussion, organised by IFPRI, brought together more than 50 high-level decision-makers from government and development agencies. They discussed and debated critical issues facing Bangladesh by focusing on ways to end hunger and under-nutrition.
"The GIU always facilitates innovative practices regardless of sector and discipline, and are mandated to build synergies with private and non-government sectors by building partnerships in the areas of common interests. In line with that, we have come to an agreement with IFPRI to work together with a view to conduct joint research on priority areas, develop mutual research capacity, and support policy advocacy," said Md Abdul Halim.
In the context of the agreement, IFPRI's director-general commented on the value of building research-policy linkages for improved development outcomes.
"I know it's possible to end hunger because there's evidence," said Dr Fan. "We have seen that collaboration with decision-makers in the highest policymaking circles is a key driver for accelerating progress in priority areas, including eliminating hunger, undernutrition, and extreme poverty."
Bangladesh has been selected as a Compact2025 focus country based on its commitment to rapidly end hunger and undernutrition, and its remarkable progress in achieving these objectives over the past few decades.
In this respect, Dr Akhter Ahmed, IFPRI country representative for Bangladesh, stated, "Successive governments in Bangladesh have shown a great willingness to pilot evidence-based research, and evaluate the effectiveness of programmes, confront shortcomings, and cancel or modify programmes as a result. This enabling environment has paved the way for various policy-led successes since independence."
Various high-level government officials such as the international affairs adviser to the Prime Minister, Dr Gowher Rizvi, state minister of finance and planning Muhammad Abdul Mannan, MP, and former minister of finance M Syeduzzaman took part in the event, along with development experts from Bangladesh and abroad.
This article was originally published in  The Daily Independent  on 10 October 2017.